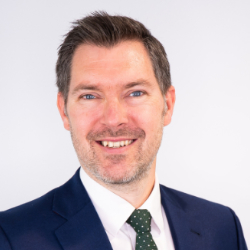 Director Classic Car Finance
It's amazing how time flies. It's strange to think that it has already been a year since we were at the 2019 London Classic Car show.
For the first time, this year the show was hosted at its new venue: the Olympia Exhibition Centre in London. This historic venue was the perfect backdrop and setting for a show focused on the classic car movement. As we are now nearly two years old, we had a number of contacts and customers at the show and it was lovely to put faces to names to those I had not met in person before.
There were some very prestigious dealers present, fitting for a venue in the heart of Kensington. This was also reflected in the cars on display, with many examples of machinery running well into six figures and beyond, this included some models we had funded recently.
My favorite exhibits included:
The immaculate 1954 Jaguar XK120 that positively glistened under the show lights with its tan interior and matching bonnet strap. Perfect for a lazy summer cruising through the English countryside, the epitome of classical elegance.
The Ferrari F50, with its huge 'nostrils' and large wing. This mid '90s iteration of the hypercar - as a follow up to perhaps the more famous F40 - is a rare thing. With only 349 ever being built and derived from F1 technology it was amongst the fastest cars of the day. In its traditional Ferrari Red, it was an impressive sight on Joe Macari's stand. In 1995, you might have been able to buy one for around £300k, now it is worth millions.
Everyone loves an Aston Martin, and the DB6 on display at the Hilton & Moss stand was one of the best examples I have ever seen. Spotless from top to bottom - evidenced by the mirror showing the underside! Whilst not the more popular DB5 of James Bond fame, in reality the DB6 is a better ownership prospect as it is that bit larger it provides added comfort, and because of the lack of film link they are much more affordable.
Another highlight included the Mercedes 190SL roadster on Hemmels' stand. It was so shiny you could use it as a mirror. In a stunning shade of green with perfect red leather interior, and classic white wall tires, this was a classic you could drive every day.
Finally, if the glistening cars on the dealers stands were perhaps a little out of your price range, there was a smorgasbord of cars in the Coys Auction display. From rare and exclusive cars, to the veritable project cars, ripe for the new owner to put their stamp on them. This included a mini that sat on flat tyres and had rusted since its glory days, but had heritage from the time of its launch and could be wonderful with a large amount of graft and care.
Ultimately, I think the move to Olympia was a great choice. For the majority, the location is much easier to get to than Docklands, the surroundings more in keeping with the classic contents and the atmosphere a bit more tangible given the slightly smaller space. A fantastic day out and well worth the trip down to the 'smoke' where hopefully we will see you next year. Who knows? With a bit of funding in your armory you could leave with more than one car!