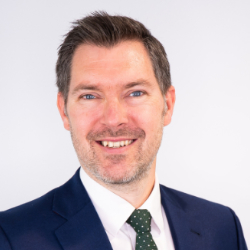 Director Classic Car Finance
Silverstone classic is the largest Classic Car event in the UK, situated at the home of UK motorsport, Silverstone and held over the weekend of 27th & 28th July.
This year there were over 1,000 cars in attendance from the not so humble race prepared Mini to the stupendous LMP1 prototypes campaigning in the master's endurance series, where the youngest are only 7 years old but still mighty impressive around the track.
On the Friday I was fortunate enough to be invited as a guest at the Parc Ferme hospitality in the famous Silverstone Wing, where we were exceptionally well looked after during the day by our hosts as well as the excellent staff providing food and drink. I managed to have a passenger ride in a V12 Aston Martin Rapide round the track between races, the driver advised he could not go too fast given the wet weather conditions, but the glorious V12 was still singing sweetly.
To be chauffeured around the site by the Tesla Owners club was also very special, where you never quite get used to the silence, but it was great to see all the Tesla owners enjoying their experience with the future of automotive technology.
In the afternoon I had a wander around the national paddock area where several owner's clubs were based including both Ferrari and Aston Martin, in each display there was the odd rarity amongst the ranks of other "normal" supercars! These included a pair of Ferrari Dino's sandwiching a Daytona, which was tucked away, perhaps because of their high value or maybe because most people aren't as attracted to them as they are to modern metal. Not me though, I fully appreciate both in all their glory.
In the Aston Martin area, the DB4's, DB5's and DB6's are always special and so evocative of the Aston Martin brand. For the more modern enthusiast there was a DBS Supperleggera Edition 59 designed by Cambridge Aston Martin and one of only 24 ever made and collected at Le Mans back in June.
On the Saturday the weather wasn't quite as nice as Friday and more becoming of a typical British summer - not cold, but not dry either. This led to some spectacular "rooster tails" from the historic F1 cars running early in the afternoon.
Overall Silverstone Classic is a great event, and I am certain to be back there next year, hopefully with many more new clients and friends.  Highly recommended.