Property deals we've done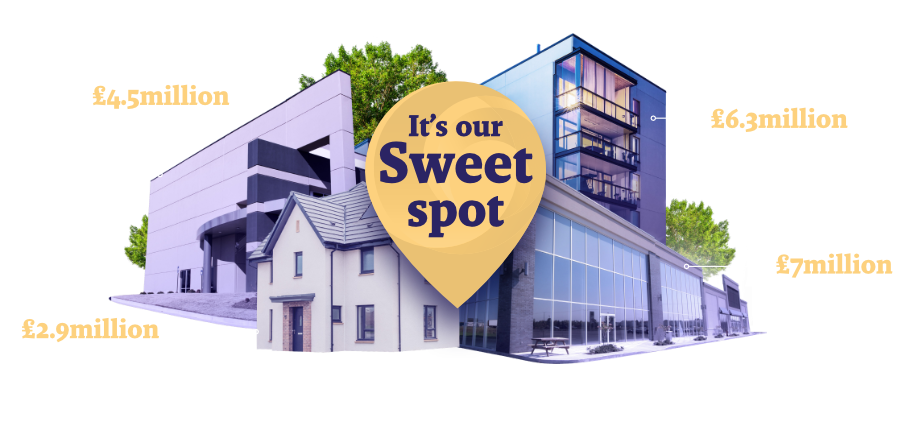 Good deals are built on quality conversations.
We talk, we listen and we really get to know what makes your clients business unique, so that we can create solutions that work for them. Once a deal has been established, the conversations continue. Your clients can expect outstanding personal service throughout the lifetime of their loan and beyond. To get an idea of how we could help your clients, take a look at some of the deals we've shaped through our broker partners, and given the green light to.
When a new 10-year lease was successfully negotiated on a 30,000 sq. ft distribution warehouse, our customer was able to refinance the property at a lower margin away from the incumbent.
Loan amount: £1.2m
LTV: 60% of MV1
Creating multi-occupancy office spaces from a former B-listed school, connected with an iconic A-listed church building, was an ambitious yet satisfying project. We financed it on a mix of short and long-term leases, as well as rolling rents.
Loan amount: £1m
LTV: 58% of MV1
Loan term: 25 years
A complex made up of multiple different units was refinanced with help from the Bank. The space included a leisure site where an existing tenant wanted to secure their units, as well as a restaurant and bar which included owner occupier residents and other commercial investment properties.
Loan amount: £1.14m
Loan term: 15 years
LTV: 60% MV / 70% VP
A longstanding childcare home service provider in the South Wales Valleys came to us for assistance in refinancing six of their existing residential properties. The funding provided the customer with a substantial amount of funds which they are hoping to use as contribution towards future property purchases as well as some funds to refurbish and enhance the properties.
Loan amount: £1.152m
Loan term: 15 years
LTV: 73% VP, reducing to 70% within 12 months
A Grade II listed hotel in the capital city had rooms and facilities refurbished, allowing expansion to their operations thanks to funding from the Bank. They were able to refinance the property to release equity from us after being refused by their existing High St funder who they'd been banking with for numerous years.
Loan amount: £3.6m
Loan term: 25 years, 2 years interest only
LTV: 60% MV1 / 80% MV3
A customer was able to purchase a large office block through shared acquisition of a company. The property was let to multiple tenants on short-term leases and licenses however we were happy to review the individual's circumstances and provide funding to suit their needs.
Loan amount: £1.425m
Loan term: 15 years
LTV: 60% MV
Our customer had multiple care homes in a variety of locations across the south of Wales. We were able to refinance these care homes for them, which supported their business strategy, including an MBO, with the funding incorporating debt forgiveness from their existing funder.
Loan amount: £5m
Loan term: 15 years
LTV: 35% MV1 / 73% MV3
Following a refusal from their existing lender, we helped our customer refinance and release equity from their owner occupied recycling site, to allow them to restructure their overall borrowings.
Loan amount: £3.95m
Loan term: 20 years
LTV: 55% VP
What our brokers are saying
"...We presented a challenging deal to the Bank who understood every aspect of the clients requirements and came up with some fantastic terms in this difficult current environment. We found the whole team to be superb at handling every aspect of the deal and made it easy for both the client and for us with their excellent communication. Perhaps the best bit was how Paul and his whole team understood the need to complete the deal as efficiently as possible. A first rate result, would highly recommend Paul and his team."

Mark Hartery,
The Bespoke Banking Consultancy
Get in touch with our experienced property finance teams