We believe that the individual differences and the contributions of everyone in our team enables us to work effectively together to deliver great customer experiences.
This underpins our strategy of actively attracting, employing and retaining a diverse and adaptable team. Our aim is that our workforce will be truly representative of all sections of society and that each employee feels respected and able to give their best. We promote equality and fairness for everyone who has contact with the Bank, regardless of whether they are actual or potential customers, staff members, suppliers or other stakeholders.
As part of our commitment to inclusion and greater diversity within our industry, we joined the Women in Finance Charter in 2017.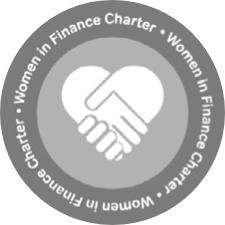 Our mission
We are committed to achieve by 2022...
Incorporate unconscious bias training into our training plans
Ensure all our shortlists for management roles are 50% female
Increase the number of women holding roles in our 3 top management tiers (including Board) to 30% by December 2022
Increase the number of female interns and graduate entrants by 50% in order to encourage more women into the Banking industry
Our progress so far...
When we signed up to the Charter in June 2017, we had 16% female representation in senior management, 25% female representation on executive committee, and 11% female representation on our Board. As of 30 June 2020, we have 19% female representation at senior management, 43% representation at executive committee and 30% female representation on our Board. With the appointment of a female at executive committee level, this will increase the female senior management representation to 23%, and female executive committee representation to 50%.
We believe we are on track to meet our Charter target by our deadline. We have sustained an increase in female representation at senior management level since 2017 by ensuring our short lists for all posts are 50% female. The senior management team have embedded the commitment to the Charter. We have increased the representation of female staff to 47% and our internship programme achieved its target of 50% female representation.
Additionally, we promote family-friendly practices that allow all our staff to balance their work and home lives and have a mentoring programme, open for all women in the Bank.