Bankers from Cambridge & Counties visited the Leicestershire and Rutland hospice LOROS to present almost £2,000 raised by cycling from Land's End to the Bank's Leicester HQ in three days.
Christian Cowie, Nigel Downes, Kevin Rowbottom and Martin Leake – half of the eight-strong team of riders – called in to present LOROS with £1,941.36 and to find out more about the hospice's work.
LOROS corporate fundraising co-ordinator Magdalena Korytkowska gave the bankers a tour of the hospice and shared some of the countless stories of families who have been touched by its work.
Martin Leake said the cycling bankers had been generously supported by many sponsors, including his Wanlip neighbour Pauline Harrison whose husband Ian was cared for at home by LOROS until his recent death.
Martin said:
"I chose to fundraise for LOROS because its wonderful work is so valued locally. I only found out afterwards that Ian had cancer, which made it very personal for me as well. Pauline was very supportive and generous with a donation."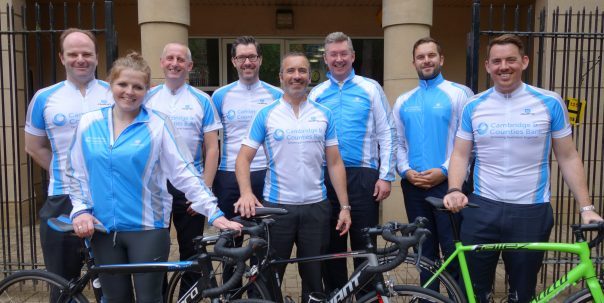 Magdalena explained the hospice's current developments, including construction of a new Day Therapy Centre and a Professional Development Centre.
She said:
"We are delighted that the Cambridge & Counties Bank team decided to fundraise for LOROS.

"We are very grateful for the money the team has raised. It is equivalent to the cost of one of our specialist nurses to look after our inpatients for nearly three weeks. That's a fantastic contribution to the care we provide."