Cambridge & Counties has once again backed an entrepreneur who is developing Bawtry Hall in Yorkshire.
Cambridge & Counties funded the original 2014 purchase of the former country house by Jason Cooper and its first phases of renewal.
Now the Bank has once again backed Cooper by agreeing the equity release of £1.3m which will be invested in the ongoing refurbishment of Bawtry Hall and help further investment in more property within the region.
The Grade II Listed, 50,000 sqft Bawtry Hall has a fascinating history, serving the Royal Air Force from 1941 to 1984: first as HQ for No.1 Group, Bomber Command during and after the Second World War; then as Strike Command HQ up to and including the later stages of the Cold War. The famous bombing of the airfield at Port Stanley by Vulcan bombers during the Falklands War was co-ordinated from the operations room at Bawtry Hall.
Since purchasing Bawtry Hall for £1.65m and following a substantial renovation programme, the Hall is once again an integral part of the Bawtry community with more than 20 businesses working out of the offices and the 15 luxury residential apartments created and fully let.
The next wave of renovation is eight more apartments and there is a waiting list of occupiers keen to move in. Following the apartments, Bawtry Hall is also set to become a luxury wedding venue in 2018. The whole property is now valued in excess of £7m.
Jason said:
"Cambridge & Counties Bank and the team I work with – Adam Jolley, Simon Lindley and Mike Kirsopp – have always been very straightforward, pragmatic and highly supportive of our ambitions for Bawtry Hall. I have found when Cambridge & Counties agree to fund a deal, the deal gets done in record time and on the exact terms that were agreed. We are looking to continue to grow that relationship in the future."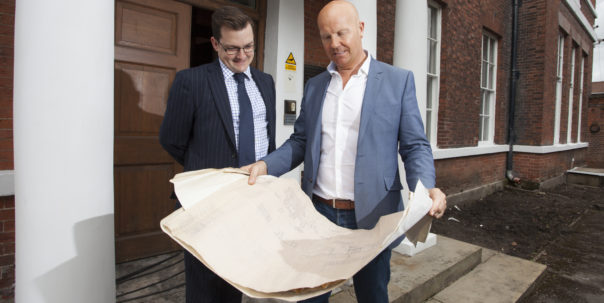 Adam Jolley, business development manager for Cambridge & Counties, said:
"We have been very impressed with the property and with Jason as a client. Playing our part in the future of Bawtry Hall is an exciting prospect as its redevelopment continues."
Legal work was completed in-house at Cambridge & Counties by Sally Smith. The valuer was Martin Nicholson at Nicholson & Co. Jason Cooper was originally introduced to Cambridge & Counties by Andy Churchill of Real Property Finance.