Two Walsall-based entrepreneurs and brothers, trading as Khera & Khera Ltd, have refinanced a large industrial estate in Halesfield, near Telford, on a longer-term, more competitively priced commercial mortgage through Cambridge & Counties Bank. Led by Paul & Lucky Khera, the brothers were introduced to the bank by commercial broker Dan Ahmed at Midland Bridging Group.
The Telford assets, which cover almost 3 acres with 49,000 square foot of factory space, are situated in the Halesfield 24 industrial estate, an established hub near the city centre. It largely houses many engineering and tech firms and offers excellent road and motorway links with the rest of the Midlands. A number of successful businesses trade from the units, including one that has been there for over 40 years.
Financing the UK warehousing and logistics sector is a key focus for Cambridge & Counties Bank in 2021. The bank has rolled out a dedicated Commercial Loans campaign, aimed at raising awareness of the bank's competitive lending proposition for investors looking to acquire or develop appropriate assets. The bank saw a 36% increase in the value of its warehousing loan book in 2020 compared to 2019, with particular growth in the North West, Yorkshire and the East Midlands, and expects demand to remain high as sectors such as retail look for additional warehousing and logistical support.
Paul & Lucky Khera, who also own the well-known Midlands-based food manufacturer KTC Edibles Ltd, have a successful track record in running a number of businesses and have developed a very broad relationship with Cambridge & Counties Bank. They have secured in excess of five financing agreements along with use of the bank's Classic Car finance on a number of automotive assets.
Marco Brice, Relationship Manager at Cambridge & Counties Bank, said:
"Helping entrepreneurs and investors such as Paul and Lucky to secure and realise these sorts of refinancing opportunities is central to Cambridge & Counties Banks' business model and customer approach.

"In particular, we believe we offer a differentiated service and product offering for investors looking to capitalise on demand for warehousing and logistics assets. As online retail has grown so has a real need for warehouse and distribution units. While giants such as Amazon have long been using this business model, requirements for smaller, agile logistics space have risen too. In what is a highly dynamic sector, we are here to help investors meet this demand."  
Commercial deals in warehousing and logistics often call for specialist knowledge and experience.
Click here to find out how we can help.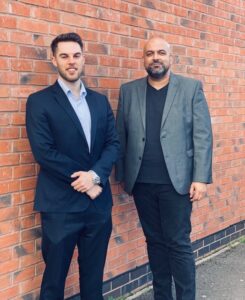 Paul Khera said:
"The support and understanding shown by Cambridge & Counties Bank, as well as Dan Ahmed at Midland Bridging Group, has been key in helping us successfully refinance the industrial asset in Telford on better terms. In particular, the strong relationship-based approach and complementary product suite is a real differentiator for the bank."