Cambridge & Counties has backed a Cornish property investor keen to expand his innovative use of shipping containers for business start-ups and retailers in Newquay.
Cambridge & Counties has provided a £3.3 million loan to Baylor Julian's business, RT Julian & Son, to refinance and release equity on two sites in the town.
The loan is being used to clear existing finance from several lenders and the refinancing will enable Baylor to continue to invest in Prow Park, a key site in his portfolio along with West Court Yard in Newquay's Crantock Street.
Baylor's business offers affordable office accommodation and storage to small businesses in converted shipping containers. He is keen to double the number of units on the ten-acre site and add innovative and affordable live/work units. Currently, there are more than 50 containers in use.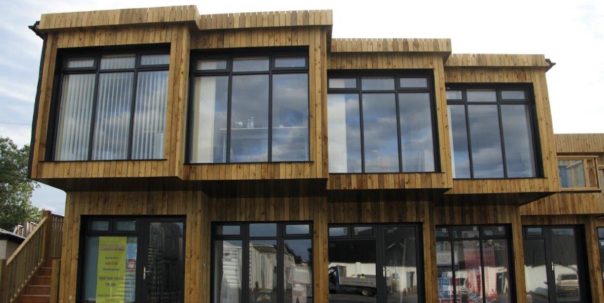 Baylor said:
"The containers are quick to install and convert, they're durable and they are quirky. It's a great example of upcycling and they can be taken off-grid, so it's a very positive contribution and ticks a big green box."
Baylor added:
"Cambridge & Counties Bank has done what no other lender would. What excited me about the Bank was how keen it has been. When you talk to most banks, if it's not a 'normal' proposition they don't want to know."

"What we have got is unique in the UK. When we got in touch with Cambridge & Counties they were straight down here to look around and were more than keen to move it forward. It's refreshing to meet a bank that admires what we have done and is willing to help us do more."

"On one recent day we had 17 potential tenants visit but we are full. The quicker we can get on with expanding, the quicker we can help more start-ups and established businesses and brands."

"It has taken me five years to get to where we are today and with Cambridge & Counties Bank's help we can now double in size in the next 12 months. Without Cambridge & Counties seeing the potential I don't know how else we could do that."
Paul Howard, director of business development for Cambridge & Counties in the South West and Wales, said:
"We're always keen to explore opportunities that fall outside the narrow confines restricting traditional lenders. Baylor's vision is impressive and the potential is boundless. We're delighted to be backing him."
The law firm Murrell Associates, based in Truro, advised on the financing. Rebecca Dixon, the associate, said:
"We were able to complete the transaction in a timely and efficient manner thanks to the proactive and commercial approach of Cambridge and Counties Bank and all the professionals involved."
Hugh Murrell, managing director of Murrell Associates, said:
"It's encouraging to see challenger banks such as Cambridge and Counties investing in good quality businesses and assets in Cornwall."