We've have donated more than 200 toys for children in Leicestershire and Rutland who might otherwise go without a gift this Christmas.
Dozens of colleagues at the Bank's HQ on Leicester's New Walk donated more than £500 of new toys as part of Leicestershire Cares' 18th annual Collect for Christmas Appeal. The toys have been forwarded to the Leicester-based charity Toys on the Table which wraps them and each year gives local agencies and charities thousands of gifts to go to children across Leicestershire and Rutland.
Cambridge & Counties staff donated a huge variety of gifts suitable for various ages of children, including Lego sets, a drone, skateboards, dolls, air hockey, puzzles, board games and craft sets.
The Bank's Collect for Christmas activity was co-ordinated by purchase ledger clerk Kellie Lee and financial accountant Katie Garrick.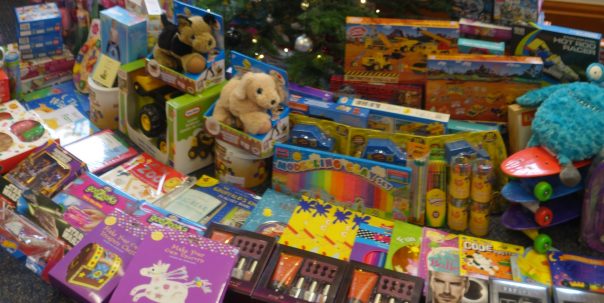 Katie said:
"Our colleagues across the Bank's teams have been wonderfully generous again this Christmas."
Kellie said:
"It's good to know that we have made a positive difference to Christmas Day for hundreds of children in Leicestershire and Rutland."
It's the third year Cambridge & Counties has taken part in Collect for Christmas. In 2016 the gifts went to Age UK and last year to Leicester's Zinthiya Ganeshpanchan Trust, which works with women and families from disadvantaged backgrounds.
Cambridge & Counties is a member firm of Leicestershire Cares, which brings together businesses and those in the local community who need help.
Leicestershire Cares community development manager Sarah Green said:
"Once again Cambridge & Counties Bank has offered wonderful support to our Collect for Christmas campaign this year."

"The generosity of its caring staff to help others is simply amazing and their donations will make a tremendous difference to Toys on the Table and the children it
supports."