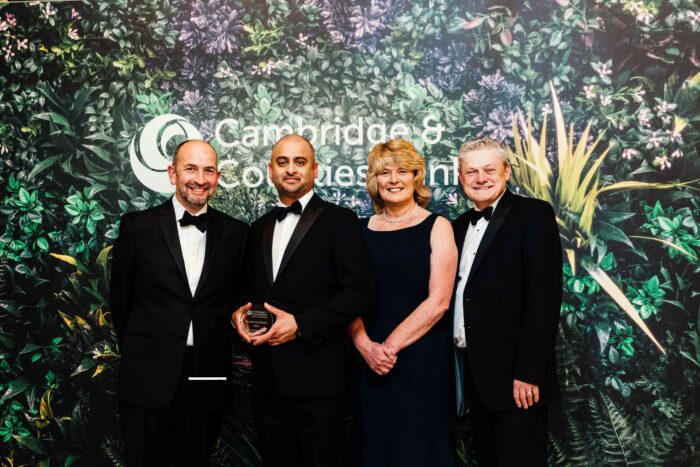 Nicholas Christofi, Managing Director at London-based broker Sirius Property Finance Ltd, was named Commercial Broker of the Year at Cambridge & Counties Bank's annual finance broker awards ceremony, held in November this year at Leicestershire-based Kilworth House Hotel.
For the first time in eight years, a new broker won the Residential Broker of the Year award - Chirag Sheth, a Senior Partner at London-based Empire Commercial Finance Ltd.
Cambridge & Counties Bank's annual broker awards have been running since 2013. The event looks to recognise brokers that introduce customers who have helped drive the bank's growth. In 2021, finance brokers helped the bank's gross new lending increase by 50%.
Sirius Property Finance, won the inaugural New to Bank Broker Award at last year's ceremony.
For this year's ceremony, over 30 brokers met to discuss the sector and applaud the partnerships which have enabled Cambridge & Counties to support an increasing number of SMEs and UK property investors. Two awards were presented in recognition of the volume and value of business generated over the past year.
Donald Kerr, Cambridge & Counties' Chief Executive Officer, said:
"In what has been a challenging few years, Cambridge & Counties Bank has continued to grow and expand, and our broker partners have once again been a key part of this growth. Looking ahead, we remain wholly committed to strengthening established relationships and finding new ones for the benefit of all stakeholders.

"I believe we have such a strong and successful business relationship with brokers due to our dedicated approach to working with them in delivering tailored solutions for their clients. Enormous congratulations to this year's winners – Nicholas Christofi at Sirius Property Finance and Chirag Sheth from Empire Commercial Finance."